Enjoy the event ad-free with the Znipe Studio broadcast
Experience Intel Extreme Masters completely ad-free!

Join well known talents such as Thorin, Lurppis and other guests during breaks and in between matches. Get your front row seat to esport analysis from industry leaders.
Watch multiple LIVE matches at the same time
Have eyes on all stages in the event. Overlap video streams, and display them as big or small as you want.

Catch all the action with Znipe PING. Appearing in the corner of the stage, Znipe PING brings you LIVE highlights as they happen on other stages in the event.
Shadow your favourite player in 1080p
Katowice 2018 Digital Pass will broadcast the event stream, Znipe Studio, and each player's stream from their point of view.

Jump into the player's seat, and really see how your favourite player performs.

Watch up to four streams at the same time.
Match highlights and editorial content
Alongside all the matches, the Katowice 2018 Digital Pass includes highlight playlists for every match, behind the scenes action, and editorial content focusing on presenting the most intense moments throughout the matches and esports history.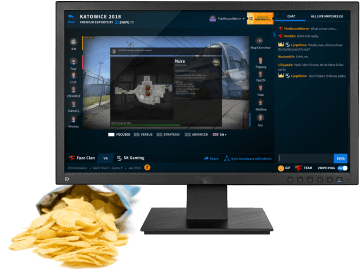 Esports should be enjoyed on the big screen
This BETA experience has been crafted with a focus on desktop and is not yet optimized for smaller screens.